Mabel Gosling (1889~1989)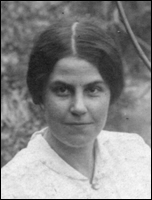 Mabel Gosling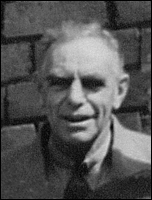 George Hawke Hiffernan
Mabel Gosling, the daughter of George Morgan Gosling and Clara Matilda Wilkins was born on the 24th February 1889 in Bristol and she was Christened on the 19th January 1896 in Bristol. She worked as an office clerk and after the outbreak of WW1 when she became a volunteer nurse at the Beaufort Hospital in Bristol.
George Hawke Hiffernan the son of Thomas Eld Hiffernan and Dorcas Bolster was born in Mallow, County Cork, Ireland on 1st July 1887. As a young man George worked in England then travelled to Canada sometime between 1906 and 1913. In 1913 the people he was boarding with decided to go to the Peace River Country, British Columbia, Canada and George decided to go with them. On the 20th March 1914 he filed on a quarter of land (Land File number 3136006 - Quarter NW18, Township 79, Range 14, Meridian 6) for homesteading in the Peace River area. He was offered the job of building the telegraph line for the govenment from Grande Praire to Hudson Hope for which he hired some men to help him.
On the 2nd October 1915 he volunteered for the Canadian Over-Seas Expeditionary Force (CEF) at Lake Saskatoon and on the 26th of June 1916 he arrived in England as a Private with the 66th Battalion. He was then transferred to the 8th Battalion and joined the unit in France at the Somme.
On the 26th of September 1916 he was shot in the thigh which resulted in a compound fracture of the femur and then while he was wounded he was buried (by debris from shell fire) and injured his left arm which he had previously fractured in 1904. He lay wounded in the field for three days before being rescued and taken to No. 12 General Hospital in Rouen. He stayed here for several days before being evacuated to England on the hospital Ship 'Western Australia' where he was taken to the Beaufort Hospital in Bristol, arriving on the 5th of October 1916. During his stay here he met Mabel who was visitng at the hospital with her sister.
On the 15th of May 1917 George was transferred to the Canadian Convalescent Hospital Bear Wood, Wokingham, Berkshire where he stayed for several days before being returning to Canada on the SS Olympic (Troopship 2810) arriving on the 29th of July 1917. He was then transferred to Calgary where he was discharged on the 24th of August 1917. He did not immediately return to his Homestead quarter that he purchased in 1914, records show that he worked as a lineman for a telephone company in Lethbridge for a while.
Mabel followed George on the first ship (bride ship) that left England after the war and was re-united with George at Medicine Hat, Alberta where they were married on the 18th December 1918.
A very pleasant time was spent yesterday at the home of Mrs. H. R. Maxwell, on 5th Street (Lethbridge), when the staff of the Alberta telephones and other friends met together to greet Mr. and Mrs. George Hiffernan, whose marriage took place at Medicine Hat last Saturday. At the conclusion of a very enjoyable evening, during which dainty refreshments were served, by the hostess, Mr. J Boreman, wire chief, on behalf of the staff, presented Mr. and Mrs Hiffernan with a beautiful cut glass water set. Many good wishes were given to the bride and groom for their future happiness.
Medicine Hat Weekly News
Thursday December 19th 1918.
Because George had only got a small shack on the homestead, they rented the Zimmerman place for about the next 2 years. Then around 1920 George built a log house on their homestead and they moved in before it was finished. There was no water available so George dug a cistern and piped the water into the house and as there was no power in the counrty at that time he built a wind charger for electricity having found instructions in the 'Popular Mechanics' magazine.
George became a lineman and worked in Lethbridge where Mabel joined him after crossing in a bride ship. As soon as the situation warranted, the Hiffernans came to the Peace but conditions on George's homestead were not adequate for living, so they rented the Zimmerman place, later the Querin's quarter. In due course a very well built log house was erected at a neighbourhood 'bee' on George's homestead and the Hiffernans moved in. The Hiffernan place was noted for its fine garden and for years the neighbours picked raspberries from George's irrigated patch.
York, Lillian.
Lure of the South Peace.
British Columbia: Alaska Highway Daily News, Fort St. John, B.C. & Peace River Block News, Dawson Creek, B.C., 1981.
On the 7th September 1929, having sold his house in Bristol, Mabel's brother Walter and his son Harold travelled from Southampton, England to Canada on the 'Montroyal' Canadian Pacific Line arriving at Quebec a week later on the 14th September. As far as we can tell they both intended to emigrate to Canada with the intention of Harold inheriting George and Mabel Hiffernan's farm in the Peace River area of British Columbia at some point in the future. However sometime later Walter decided to return to England (reason unknown) and it is believed that he considered letting Harold stay behind but when the time came to actually go he couldn't bear to leave him. They both returned to England travelling on the 'Duchess of York' Canadian Pacific Line arriving at Liverpool on the 29th November 1929.
George and Mabel built the farm up over the years and there are records of George winning prizes for the quality of his crops. They retired from the farm in the 1950s selling their land to the Wilfred Melias and moved to Dawson Creek where they stayed for a few years.
In 1956 they travelled to the UK on the Ascania (Cunard Steam-Ship Company) from Montreal, arriving at the port of Southampton on the 28th July. They visited Mabel's family in Bristol and 4 months later, on the 29th November, they returned to Canada on the Carinthia (Cunard Steam-Ship Company) travelling from Liverpool to Montreal.
In 1959 they moved to Victoria, Vancouver Island where George died on 10th August 1973 aged 86 after which Mabel sold the home and moved into an apartment near Beacon Hill Park, Victoria. Mabel moved into Beckly Farms Lodge after she fell and hurt her leg.
Mabel died on the 2nd November 1989 aged 100 and both George & Mabel are buried at the Hatley Memorial Gardens, Vancouver Island.
Memorial services for the late Mabel Hiffernan of Beckley Farm Lodge were held October 20th, 1989 with Rev. J.D. Patsone officiating. Cremation followed. Mabel Hiffernan was born in Bristol, England February 24, 1889 and passed away at Beckley Farm Lodge in Victoria, B.C. on October 25, 1989 at the age of 100 years. She resided in Dawson Creek for many years then moved to Victoria and was a resident there for over 25 years. She was predeceased by her husband George Hiffernan in 1973.
Peace River Block News
,
2nd November 1989.
She is survived by two nephews Peter (Freda) Verrier and Frank (Monica) Verrier of Bristol, England; and also one nephew John Plunkett of Maple, Ontario. Niece Nora Eassie of Ireland; godson and beloved friends Brian and Kathleen Sessions of Victoria; goddaughter Audrey and husband Jim Bremner of Qualicum Beach, B.C.
Donations may be made in memory of Mabel to a charity of choice.
They had no children but George's legacy was a collection of photographs which were donated to the South Peace Historical Society Archives.